May Newsletter, 2018
The true beauty of music is that it connects people.
It carries a message, and we, the musicians, are the messengers.
Dwight Kim Atupan – Maths, Sciences & Music Teacher
Kim is originally from the Philippines. Before coming to Yaowawit 3 years ago, he was teaching in the Ubon Ratchathani Province for 7 years. He is now familiar with the Thai culture and can even understand and speak the language. At his first visit to Yaowawit he was sold, he completely saw himself teaching life -skills programs and felt in love with the nature that is surrounding the school. He thought that this place will be perfect for him and his family.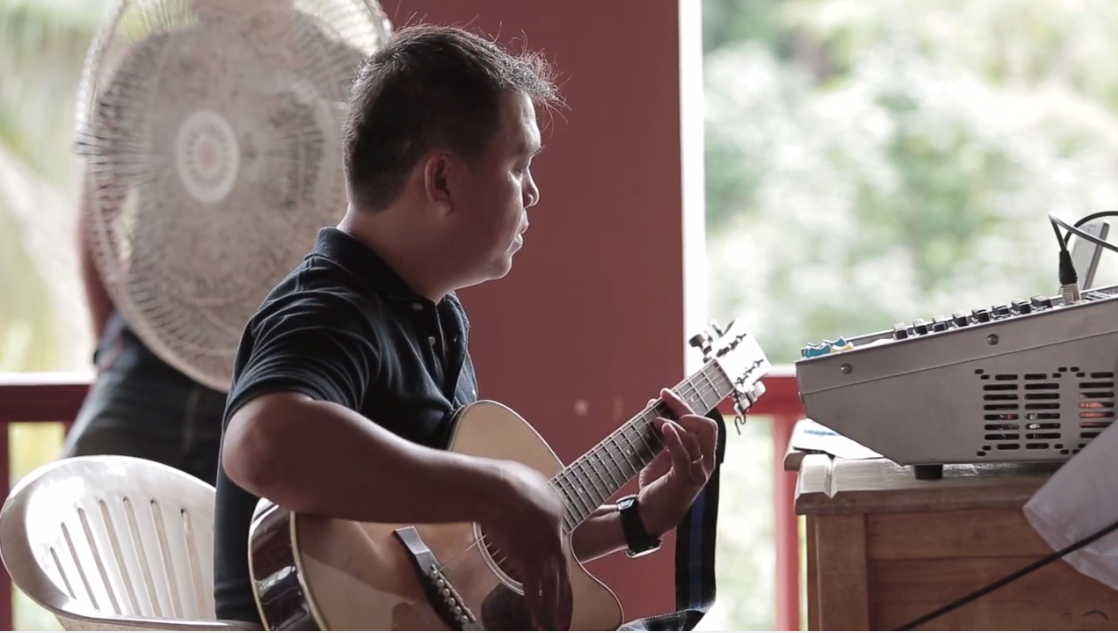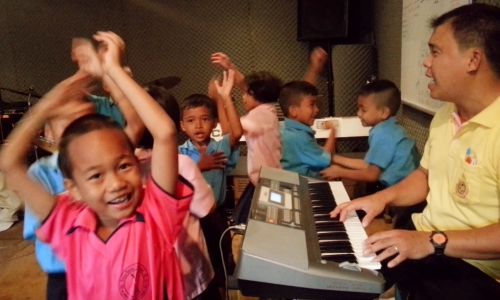 Kim was used to easily teach classroom with 30-40 children now at Yaowawit for him it's different. It's harder since most of the children have a trouble past and no relatives, he have to wear many hats; as a teacher, friend, father's example, …on a daily basis. Kim is following the Thai curriculum but when he is teaching maths and sciences he is also incorporating music in his classes. For example, he will create melodies with multiplication tables for the students to sing and remember. His technique is working really well, the children are more joyful to learn and it keeps them more aware during the classes.
Since Kim passion is music, on weekends he is hosting the music club at Yaowawit and he even started the "Jam Start" band. With his help the band already performed at fundraising, markets and communities events.
Jam Start is currently recording their first album which should be finished by the end of this year. 🙂
English Camp for Baan Bang Mao School
For the second year in a row we were asked by the Baan Bang Mao School from the province of Phuket, to organise an English camp for them.
Learning a second language can be difficult, that's why at Yaowawit we always try to be creative through activities in which the students participate rigorously and bring about efficient learning experiences.
Monks Ceremony for Coming Semester
May 15th
The students and staff were back from vacation, a new semester was starting and we invited monks to make a merit ceremony.
It's important for us to celebrate together with mindfulness and meditation to truly visualise a good start for this new scholar year.
Merit-making is important to Buddhist practice: merit brings good and agreeable results, determines the quality of the next stage of life and contributes to a person's growth towards enlightenment
STEM Education
19-21 & 26-28 May
Yaowawit School has been selected as a STEM training center for primary school teachers in Phang Nga area.
Our teachers were trained by STEM Education Thailand from Bangkok and are now delighted to help others understand this technique.
STEM is a curriculum based on the idea of educating students in four specific disciplines: science, technology, engineering and mathematics, in an interdisciplinary and applied approach. Rather than teach the four disciplines as separate and discrete subjects, STEM integrates them into a cohesive learning paradigm based on real-world applications.
What separates STEM from the traditional science and maths education is the blended learning environment and showing students how the scientific method can be applied to everyday life. It teaches students computational thinking and focuses on the real world applications of problem solving. STEM education begins while students are very young.
ICS School Hong Kong
On 21 May, the ICS School from Hong Kong visited us. Amy, who is a student of this school drew a beautiful portrait of Pon, a student from Yaowawit. It's always nice to see friendships being made here even within a short amount of time.
The ICS Hong Kong School also donated the material and built a pizza oven with our ingenious permaculture and agriculture teacher, Yuppa.
Would you be the one trying our Yaowawit Signature Pizza ? 🙂