January 2020 Newsletter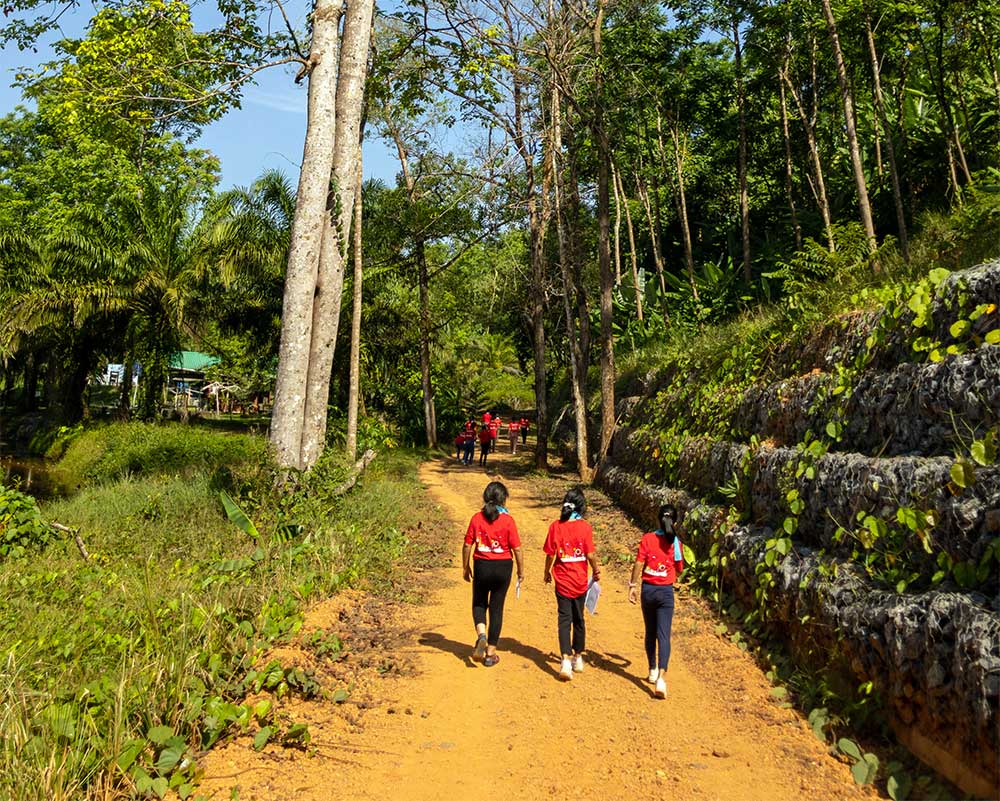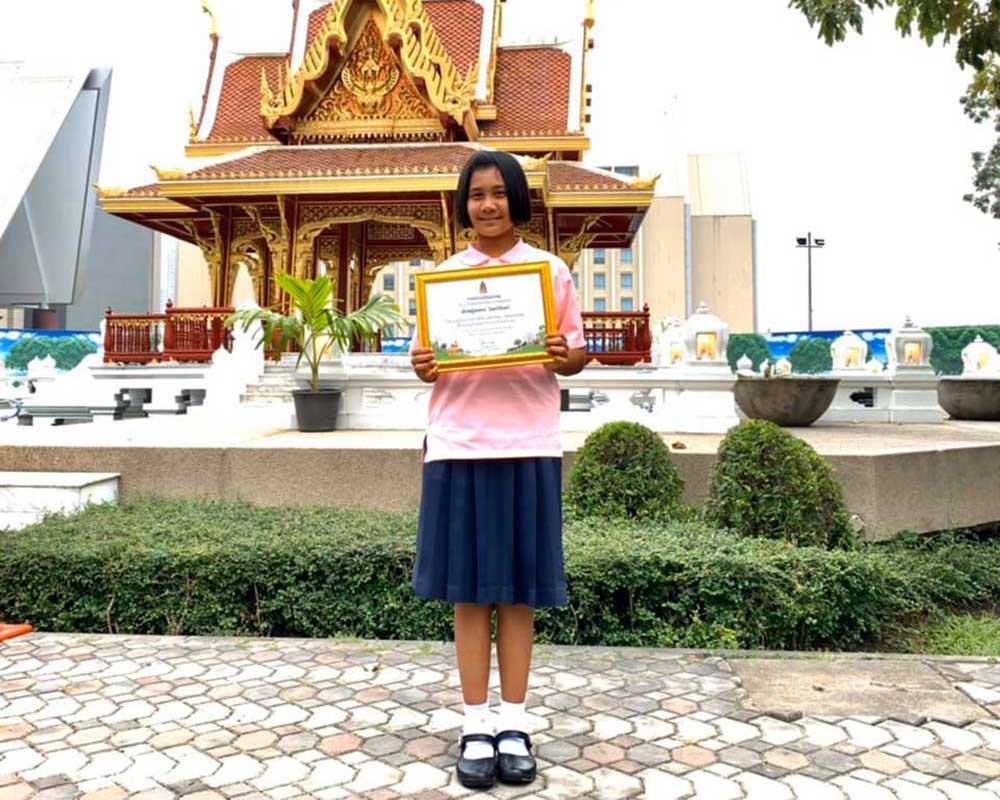 Like many other children in her class, Jean (grade 5) is busy most of the time—doing homework after school, taking extracurricular classes by joining creative clubs like traditional Thai dance and English reading evenings, and sometimes also cleaning up her room or the canteen kitchen when it is in her scheduled chores. During free time, her friends often find her reading comic books on the stairs or in a corner behind the library shelves.
Above all, she is eager to get involved in various activities both academic and extracurricular including the shows in which she performs traditional Thai dances in various cultural events in Kapong and other surrounding areas. This cultural engagement in local communities gave her a winning boost. Her overall portfolio, accompanied with excellent academic achievements, surpassed hundreds of other students who competed for the same cultural leader award in Phang Nga province. Jean won the spot and was selected as the only representative from Phang Nga province to receive the cultural leader 2020 award certificate in Bangkok on 11 January 2020.
Yaowawit is proud of her and all other students who are studying hard. Although they come from a disadvantaged background, given the opportunity and loving care, they can make achievements like anyone else, and some even perform better. However, Yaowawit will not be able to achieve this result on its own without your support, donations, partnership, and sponsorship. This result is one of many other successful testaments that grow out of your generous support. Thank you for what you have given these children. As this month is the beginning of a new year, Yaowawit is looking forward to working with you even more.
This year's event was organized and sponsored by Thanyapura, a popular health and sports resort in Phuket. Thus, the activities with the children were all about sports held outdoors in the soccer field beside the farm. Thanyapura's staff showed correct moves and refereed matches that the children played either in groups or individually.
Many games were familiar to the children, such as chairball, volleyball, and running. However, Thanyapura also introduced a timed game that combines a sequence of hopping over a rope ladder, running around barrier cones, and kicking a ball into a mini goal post. Anyone who could do all in the shortest amount of time wins the game.
The event was also celebrated with music, cheering dances, and various delicious food and drinks that Thanyapura brought for the children. The children who won the competitions received all kinds of toys, dolls, and action figures as big prizes. The children who attended as cheering groups also received prizes but small ones. The event gave children a lot of fun. Doing such sports activities outdoors keeps them healthy and happy.
To sponsor the next Children's Day event, contact us at info@yaowawit.org.
Seventeen grade-9 students from Phuket Satree School came for a one-day social event at Yaowawit. They knew Yaowawit through a friend of a friend. Then they took a day off from school and visited Yaowawit as they wanted to see it for themselves.
At Yaowawit, they took a role of senior students who led ice-breaking games with Yaowawit's students from grades 4 to 6. Through quizzes, they got to know the children one by one. And as friends, they talked about common challenges they also faced in school. Their message was to never give up, stay committed to completing homework, and help each other.
By the time they were having lunch with the children, they had become close friends. Together, they also made pizzas at the pizza stove by the swimming pool—and swam together in the pool. Yaowawit hopes the whole experience in such a brief event will bring them back. Indeed, many had expressed intentions to return and stay at Yaowawit for a week-long programme.
If your group also wants to do such a one-day event, contact us at info@yaowawit.org. Activities can be customized to suit your request.
Being unable to speak English is not a barrier to visiting Yaowawit, Yaowawit welcomes guests from anywhere, provided they bring a translator with them. That was what Yaowawit's new French friends came to experience. Intrigued by Yaowawit's mission, they stayed at Yaowawit and enjoyed all the activities.
Their first activity was teaching kids and kitchen staff some French recipes that they themselves often used when cooking for their family in France. Their other activities included serving lunch for kids, taking Thai dance practices with kids, and assisting kindergarten classes. Moreover, they also enjoyed taking workshops in Thai dessert and goat milk soap making. And during their free time, they walked to all parts of Yaowawit, such as classrooms, playgrounds, school gardens, the greenhouse, goat house, and swimming pool, among other places.
Yaowawit hopes they had an impressive experience during their stay. Anytime they come back again, they are most welcome. Thanks to Eco Voyage for making their whole trip possible. If your organization also wants to bring guests to Yaowawit, please contact us at info@yaowawit.org.
A group of Benz Phuket's family arrived at Yaowawit in the afternoon, bringing with them not only shiny Mercedes-Benz cars but also many important people including Khun Pern Neung, a famous and highly respected Feng Shui fortune master in Thailand. Benz Phuket is an official car dealer that serves its Mercedes-Benz customers in Phuket and surrounding provinces. The visit to Yaowawit was part of its fortune blessing and charity contribution to its communities.
The group gave various presents and donations for the children. Additionally, it also donated living fishes and turtles, which were then released into the pond at Yaowawit's farm. This ritual symbolizes the good fortune that nature continues to provide us as long as we take care of it and nurture all of the living beings in it.
For Khun Pern Neung, this first visit was an impressive one. He sponsored four children until their school graduation because, with his Feng Shui instinct, he could sense that these four children will be important people in the future, provided they are now cared for, given the opportunity to study, and guided as they grow up. Thanks to Khun Pern Neung and to the whole Benz Phuket's family for visiting Yaowawit.
Muang Phuket Municipal School has been a regular partner for Yaowawit English Camp. This time, the MPM school sent Yaowawit a group of 55 grade-4 students and their teachers. The topic of the camp was animal diversity in nature specifically in the valleys around Yaowawit.
After taking a tour walk around the school and in the farm, the group had a good picture of the animals that live in the woods around Yaowawit. During the English classes, the students got the opportunity to do research online and studied animal habitats like those of birds, ants, butterflies, fish, and frogs, among others. In later activities, they went into the woods to spot those animals. In addition to these outdoor activities, the group also attended a workshop in making goat-milk soap. Each activity was accompanied by fun games, dances, or sing-alongs. In the evenings, the group also watched an animal documentary movie and then performed meditation or yoga before bedtime. In the morning before departure, the group worked in the school garden, opened three patches of land, plowed the soil, and scattered plant seeds that Yaowawit's students will later look after as the plants grow.
English Camp provides a unique learning experience for students because such a programme is not offered in regular schools. Therefore, if your students want to join Yaowawit English Camp, contact us at info@yaowawit.org.